Associate Road Trip: Cricket at the curling club
Canada is one half of cricket's oldest international rivalry. Their 1844 match against the USA predates Test cricket by over thirty years, but the North American country never became a Test nation. In fact, despite occasional flashes of talent, and one or two genuine class players, Canada have been barely clinging onto One-Day International cricket for the last decade.
Since their initial, hapless tour of England in 1880, Canadian cricket has lurched from one mismanagement to the next. In 1979, they rose through the ICC Trophy to make it all the way to the World Cup, but excluding medium-pacer John Valentine they found themselves lagging far from the pace. After failing to qualify for the next five tournaments, they inched past Scotland to make it to the 2003 edition. That tournament was somewhat promising, featuring as it did a win over Bangladesh and John Davison's century, but it is probably the high point in the history of Canadian cricket.
If you fast forward to the present day, things make pretty bleak reading. Rooted at the foot of both the Intercontinental Cup and the WCL Championship, the Cricket Canada has alienated almost an entire generation of cricketers leaving a fragile and inexperienced core of players. While the return of Ashish Bagai bodes well for the near future, the rest of the side leaves serious room for improvement. Jimmy Hansra impressed at the World Cup, but has done little before or since, and Rizwan Cheema's "explosive hitting" has become little more than a collection of leg-side swings. Of course, there are rays of light too, such as talented Nitish Kumar, but Canadian cricket is in a dark place.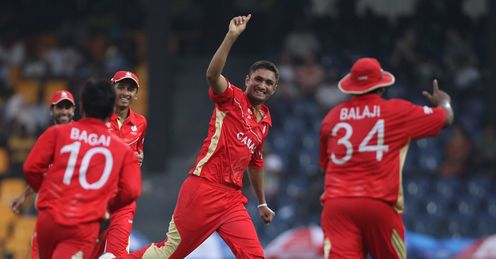 Moments of joy have been few and far between in Canada's 170-year history.
Strengths:
Amongst a very bare Canadian cupboard of talent is a healthy crop of youngsters. Most promising of them are Ruvindu Gunasekera, an elegant left handed batsman, and Nitish Kumar, who was the second-youngest ODI cricketer when he made his debut. Hiral Patel can also hit the ball very hard, while Usman Limbada also knows which way up his bat goes, and how to use it to score a fifty against Ireland.
Weaknesses:
The biggest weakness for Canadian cricket is the selection committee. When the side should have been featuring stalwarts like Umar Bhatti and Geoff Barnett, these established players were instead being pushed aside to make way for unready teenagers. In addition, there is a disproportionately enormous number of Canadian cricketers who have been called up to the national side for just one or two matches or series. Only by building a side will you find success.
Star Player:
Ashish Bagai has been a totem of strength for Canada since he made his debut as a skinny teenager at number ten in the order. Since then, he has risen up the order to become arguably the leading ODI keeper-batsman outside the top eight nations as he combines wristy batting and supple glovework. It's a pity that he has struggled to convert this into the Intercontinental Cup, and that he hasn't played since the World Cup.
Grass Roots:
The main cricket ground in Canada is a curling club. The National Cricket League competition features a very small handful of the best players, but the very players that Cricket Canada needs to re-ingratiate (Barnett, Baidwan, Chohan, Bhatti) are the very players most notable by their absence. However, there is a very strong league structure in place, even if coming from a perceived weaker league outside Ontario will be a millstone around the neck of any prospective international.
Biggest Threat:
If Cricket Canada cannot tempt back its star players, then the current crop simply won't be able to cling onto ODI cricket unless every single one of them plays out of their skins. There is currently no consistency in selection, particularly in the bowling department, and the young talents haven't progressed as the board would like. There is talk of a Zubin Surkari comeback, but he hardly set the world alight before his hiatus to become a Cricket Canada official.
So, after a thoroughly depressing look at one of the Associates on the slide, I can also tantalise you with the news that next week's article will be on a nation who are making steps in the opposite direction: Nepal. Until then, ciao.